Profile

Patrick McKinnion's Ramblings
(musings of a cautiously optimistic gund)
Free Account
Created on 2009-05-02 00:17:23 (#192846), last updated 2017-04-07 (23 weeks ago)
22,726 comments received, 3 comments posted
19,419 Journal Entries, 64 Tags, 0 Memories, 10 Icons

About

Mini Bio
"Throw your dreams into space like a kite, and you do not know what it will bring back, a new life, a new friend, a new love, a new country."
~~Anais Nin,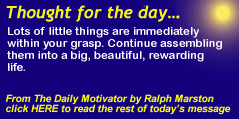 I was raised by a pack of wild corn dogs. Or at least that what it seems like at times. To use a quote I found recently: "My mind is an amusement park ride with one of the important support bolts missing..."

See what the Weather Pixie has to say about the weather in Seattle, WA


LiveJournal
Trading Cards
Paid Account Edition
patgund


User Number:

412920

Date Created:

12-12-2001

Number of Posts:

3,483

An amused and somewhat cynical outside hides an soft inside. Can be very shy and unsure of himself in social environments, but will open up under the right conditions.

Strengths:

Friendly, helpful, loyal, tries to get along with friends. Cares about people.

Weaknesses:

Defective Weeble. Somewhat Self-critical, starting to see what others value in him

Special Skills:

Raise Macintosh from dead (+4), Harp, Punning (+2), Old Highways, Lego (+3), First Aid (+1), Trivia, Fluxx

Weapons:

Amused chuckle, Sarcasm(+2), rapier (+1), lightsaber, Lego caltrops (+2)

Motto:

It's best to make the attempt and fail, then spend your life wondering "what if". Yeah, you might get hurt, but that's part of life.

Make your own LiveJournal Trading Card!
Brought to you by
crossfire
"In Life's name and for Life's sake, I say that I will use the Art for nothing but the service of that Life. I will guard growth and ease pain. I will fight to preserve what grows and lives well in its own way; and I will change no object or creature unless its growth and life, or that of the system of which it is part, are threatened. To these ends, in the practice of my Art, I will put aside fear for courage, and death for life, when it is right to do so -- till Universe's end."
- The Wizard's Oath, Diane Duane's "Young Wizards" series Also decent words to live by.......
MindMap
Get your own valentinr

Connect
501st
,
anime
,
arrogant worms
,
babylon 5
,
bad movies
,
battlestar galactica
,
books
,
browncoats
,
caid
,
canada
,
celtic
, chirurgeon,
chocolate
,
cons
,
cooking
,
cuddling
, cutegeekgirls,
dark chocolate
,
david weber
,
discordianism
, doha,
empathy
,
erotica
,
expat
, expatriot,
faith and the muse
,
fantasy
,
firefly
, flying fish sailors,
furry
,
girl genius
,
h.p. lovecraft
,
harp
,
ipod
,
jacqueline carey
,
jazz
,
jethro tull
,
keltiad
, kikada,
kushiel
,
lego
, ljmaps_patgund,
lois mcmaster bujold
, loreena mckennitt. mike oldfield,
love spirals downward
,
lovespirals
,
macintosh
,
middle east
,
new wave
,
newton
, old highways, omega wing,
os x
,
pagan
,
palmos
,
pda
,
poetry
,
poly
,
polyamory
,
qatar
,
rebel legion
,
ren faires
,
renaissance
,
romance
,
route 66
, route 80, route 99,
sca
,
science fiction
,
seattle
,
sendai
,
serenity
,
sexuality
,
sf
,
snuggling
,
society for creative anachronism
,
star wars
,
steeleye span
,
tangerine dream
,
tattoos
,
thunderstorms
, tie pilot, us 80, us 99,
used bookstores
,
vancouver bc

People
[View Entries]

Communities
[View entries]

Member Of (2):

Subscriptions (4):

Administrator Of (0)

Feeds
[View Entries]

Subscriptions (0)

Linking
To link to this user, copy this code:
On Dreamwidth:
Elsewhere: